JOB VACANCY ADVERTISEMENT FOR THE POSITION OF SENIOR LECTURER (DS51)
AT FACULTY OF CIVIL ENGINEERING, UNIVERSITI TEKNOLOGI MALAYSIA (UTM)
The Faculty of Civil Engineering is looking for highly dedicated and dynamic qualified candidate to fill senior lecturer positions in these fields :
LIST OF CRITICAL AREAS :
1. Soil Dynamic
2. Constitutive Geotechnical Modelling
3. Numerical Modelling
4. Railway Engineering
5. Airport Engineering
6. Structural Analysis
7. Structural Design
8. Construction Management
9. Structure Dynamics
10. Numerical Modelling
11. Hydraulics
12. Hydrology
13. Groundwater & Water Resources
14. Coastal and Maritime Engineering
15. Water Supply Engineering
16. Water and Wasterwater Treatment
17. Environmental Engineering & Management
18. Computer Programming
APPLICATION AS A INTERNATIONAL CONTRACT LECTURER AT UNIVERSITI TEKNOLOGI MALAYSIA
(CONTRACT LECTURER)
Qualified candidates as following details are invited to apply for this position of Senior Lecturer:
i. Candidates with Doctor of Philosophy (PhD) Degree from a recognized higher learning institution.
ii. Candidates with passion in Teaching, Research, Publication and Consultation.
iii. Posses a good command of English.
Application date : 
20th July 2023 (8:00 a.m) until 3rd August 2023 at (3:30 p.m)
For further information, kindly visit our Website : 
To apply this position, kindly visit our website :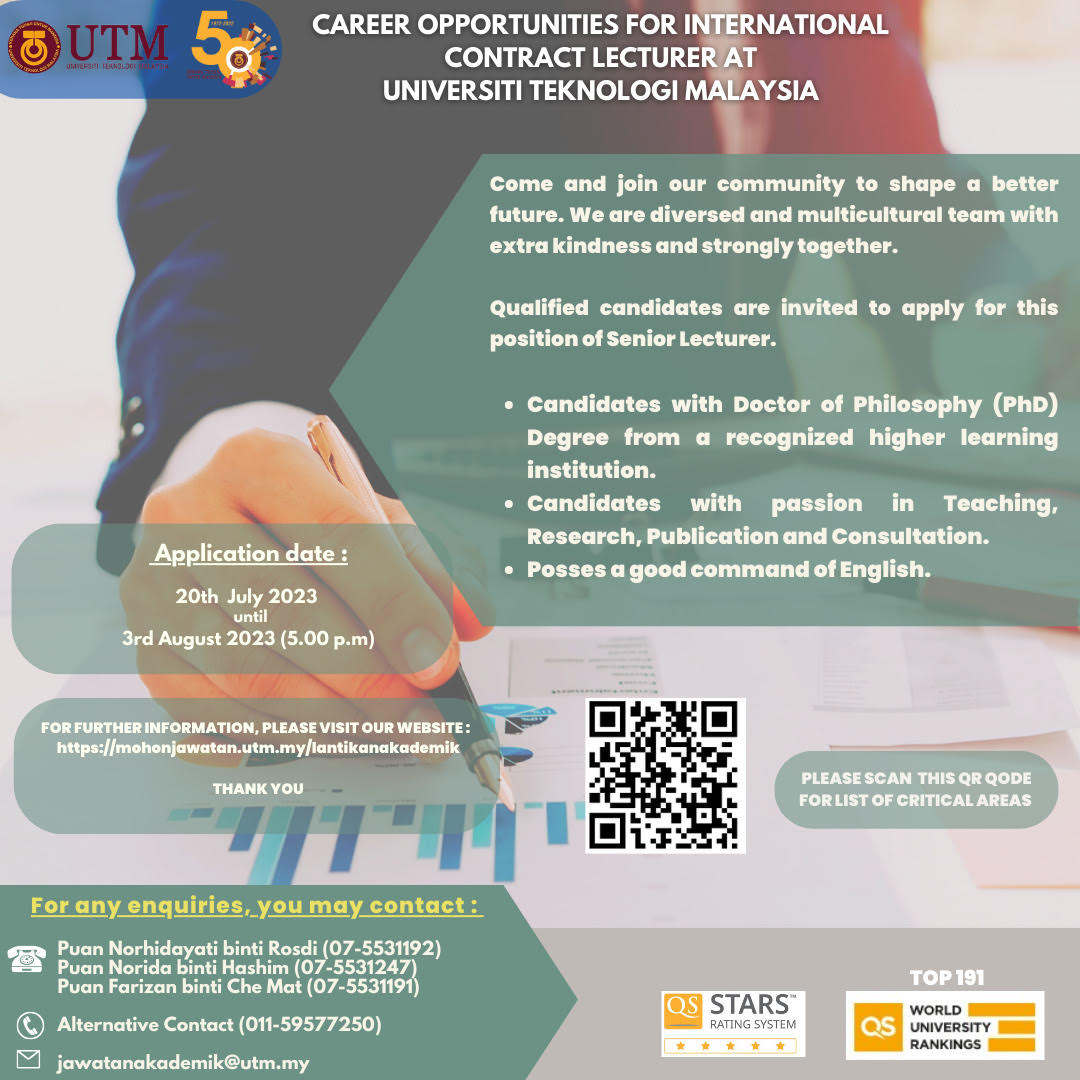 Description                                                  Benefits                                           Guideline To Apply
For any enquiries, you may contact :

i. Mrs. Norhidayati binti Rosdi (07-5531192)
ii. Mrs. Norida binti Hashim (07-5531247)
iii. Mrs. Farizan binti Che Mat (07-5531191)
iv. Alternative Contact No : (011-59577250)
PERMOHONAN SEBAGAI PENSYARAH DI UNIVERSITI TEKNOLOGI MALAYSIA
(WARGANEGARA MALAYSIA)
Tarikh Mula Iklan    :        20 Julai 2023 (Khamis)
Tarikh Tutup Iklan  :        3 Ogos 2023 (Khamis) pada jam 3:30 petang
Perincian berkaitan iklan jawatan kosong Pensyarah Universiti ini boleh dilayari di pautan berikut :
https://registrar.utm.my/bsm/career-utm/
Permohonan adalah secara atas talian (Online) di pautan berikut :
Maklumat Permohonan Pensyarah                        Syarat Pelantikan                                  Tatacara Permohonan
Sebarang pertanyaan sila hubungi pihak urus setia di talian :
i.   Puan Norhidayati binti Rosdi (07-5531192)
ii.  Puan Norida binti Hashim (07-5531247)
iii. Puan Farizan binti Che Mat (07-5531191)
iv. Talian alternatif : (011-59577250)
Emel – jawatanakademik@utm.my