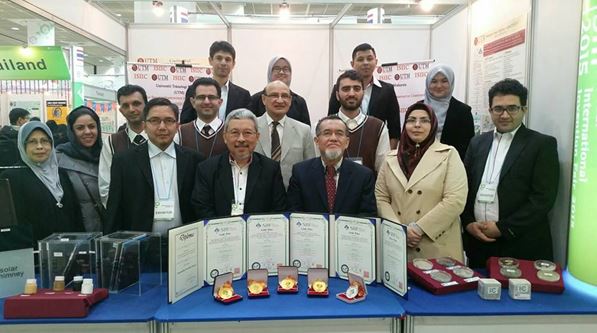 November 29 – UTM- FKA-ISIIC-CRC-CMRG team won four (4) Gold Awards and one (1) Silver Award at SIIF 2015 for the development and commercialization of four products. The multidisciplinary research team and medals consists :
Gold Medal – CoolingWall (PL: Dr. Ali Keyvanfar)

Gold Medal – SUSCRETE (PL: Prof. Dr. Muhd Zaimi Abd Majid)

Gold Medal & Diploma Hong Kong Polytechnic University -CEB (PL: Prof. Ir Dr. Mohd Warid Hussin)

Gold Medal – PAWDEX (PL: Dr. Arezou Shafaghat)

Silver Medal – Myghi (PL: Prof. Dr. Muhd Zaimi Abd Majid)

The research products have been supported by the Ministry of Science, Technology and Innovation (MOSTI), Malaysian Highway Authority (Lembaga Lebuhraya Malaysia-LLM), and the Institute of Sultan Iskandar (ISI).
SIIF 2015 was hosted by Korean Intellectual Property Office (KIPO), and organized by Korea Invention Promotion Association (KIPA) at COEX complex building. SIIF 2015 jury was validated and verified by supported by International Federation of Inventors' Associations (IFIA). This year's event witnessed 525 inventions from 33 nations showcasing their inventions.
The objective of the SIIF 2015 was to invite inventors and innovators from all over the world to promote their inventions and learn about the importance of intellectual property. SIIF 2015 not only given the chance to display UTM products but also served as a venue for consultation on commercialization and intellectual property rights for the new market
Congratulations to UTM- FKA-ISIIC-CRC-CMRG team!