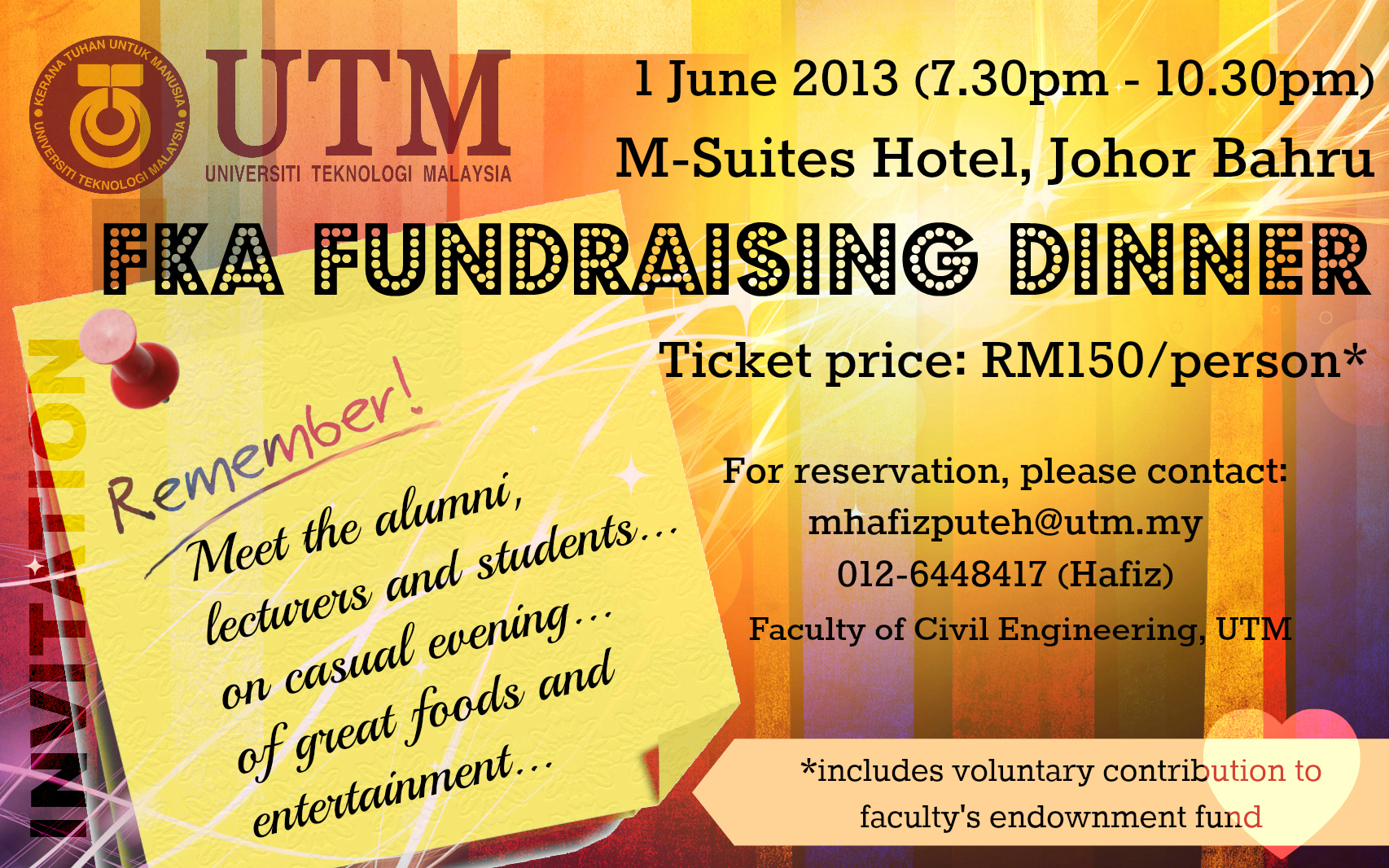 Wouldn't you like to reconnect with old friends, classmates and lecturers at a casual event planned especially for you? On this regard, we are cordially inviting you to attend the FKA Fundraising Dinner, an event where we can strengthen our friendship while enjoying great foods and entertainment; and financially support the development of our faculty. The details of the event are as follows:
Date: 1st June 2013 (Saturday)
Time: 7.30pm-10.30pm
Venue: M-Suites Hotel, Johor Bahru (

see location

)
Ticket Price: RM150/person (includes voluntary contribution to FKA endowment fund)
Dress code: Casual
To register, you may download the attached reservation form and fill in the details. Payment can be made via bank transfer using the details below:
Account name: Perunding DMMT
Account number: 01080000669715
Bank: Bank Muamalat, Taman Universiti
Please send us the copy of payment receipt and the
reservation form
by emailing to mhafizputeh@utm.my (Hafiz) after the payment is made, or fax to 07-5566157; before 15th May 2013.
So, mark your calendar and save the date. Feel free to bring along your family and/or any accompanying persons. As the seats are limited, you are advised to reserve your seat(s) before 15th May 2013. We look forward to seeing you there.
Thank you very much.
Kind Regards,
Prof. Dr. Mohd. Rosli Hainin
Chairman of FKA Fundraising Committee
Faculty of Civil Engineering
Universiti Teknologi Malaysia
81310 UTM Johor Bahru
Johor Darul Takzim.
For further inquiries, do not hesitate to contact Dr. Mohd Hafiz Puteh (email:

mhafizputeh@utm.my;

Phone: 012-6448417)