UTM team again rewarded the impressive achievements in IDEERS 2015. The competition entitled "Introducing and Demonstrating Earthquake Engineering Research in Schools (IDEERS)" which was held at the Taiwan National Center for Research on Earthquake Engineering (NCREE), Taipei from 18th to 20 th September 2015. This year the team UTM is only allowed to participate only one team under undergraduate category due to the increasing participating from others university. This build and shaking structure competition looks more attractive with the presence of many new universities worldwide and other universities from Malaysia. This year, UTM team does not participate in postgraduate category, which was awarded many impressive achievements on the participation of the past year.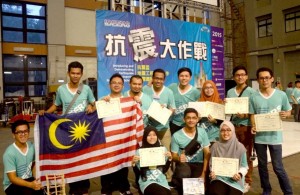 It was a moment of happiness when the undergraduate team received three award this year, the Efficiency Ratio of Excellent Award, Quake-Resistant Award and overall 9th place out of 42 Teams and rank as top ten team to receive ER award. The team achieve the best team among others Malaysian University where UTMH in 13th place, UPM (21st) and INTI College (25th). UTM delegates which consist of nine undergraduate students represented by Mohd Fadhli Abd Rashid, Jozs Band, Faiz Syafiq Liasmat, Grega Palang R Gampilok, Muhamad Asyraaf Md Arshad, Aida Batrisyia Jasni, Mohd Amirul Asyraf Mohd Rosli, Qurratu Aini Siat @ Sirat and Nur Shakila Hani Khairi.
The teams were supervised by Mr. Mohd Zamri Ramli and Mr. Mohd Nur Asmawisham Alel from Engineering Seismology and Earthquake Engineering Research (e-SEER) group.
UTM also pleased to oversee the first team from Malaysia to join the Schools category as Community Service Responsibility (CSR) and give detailed advice and also assist them on laboratory testing at UTM earthquake laboratory .Sekolah Menengah Sains Munawir, Seremban who won last UTMBridge competition are invited to participate this year IDEERS competition. They won two awards, Most Preferable Award and also Quake-Resistant Award.
In this competition, students were required to construct a wooden model according to the structural rules and specifications provided by the organizer. The model was then loaded by steel block and shaking together with others team on big shaking table until collapse according to the judges' desired seismic strength.