Note: This page is for current full time undergraduate students only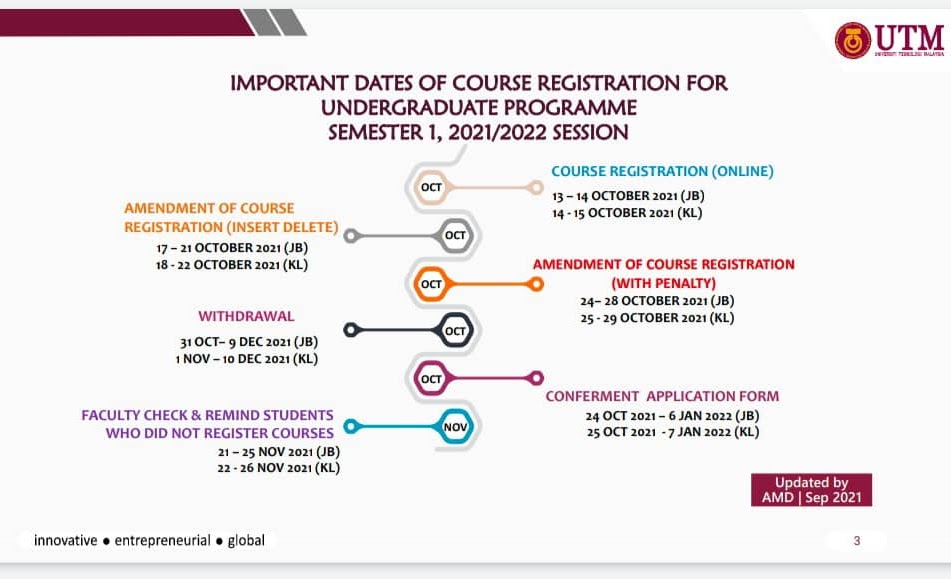 Implementation of teaching and learning of undergraduate courses of the School of Civil Engineering in Semester 2 Session 2020/2021
1) In relation to the above, I on behalf of the management of the School of Civil Engineering would like to inform that the school intends to implement teaching and learning in a blended / hybrid for undergraduate final year project in Semester 2 Session 2020/2021 . Through this method, students can only come to school if it involves laboratory activities only.
2) Survey Camp Course (SEAA1031) if offered will be conducted physically.
3) Apart from the above courses, the teaching and learning method is conducted online in semester 2 of the 2020/2021 session.
4) Also informed, the School of Civil Engineering also intends to conduct teaching and learning online for pre-graduate laboratory courses (SEAA2012 and SKAB 3012) in semester 2 of the 2020/2021 session.
5) See details of teaching and learning methods for each course.
Dr Suhaimi Abu Bakar
1/2/2021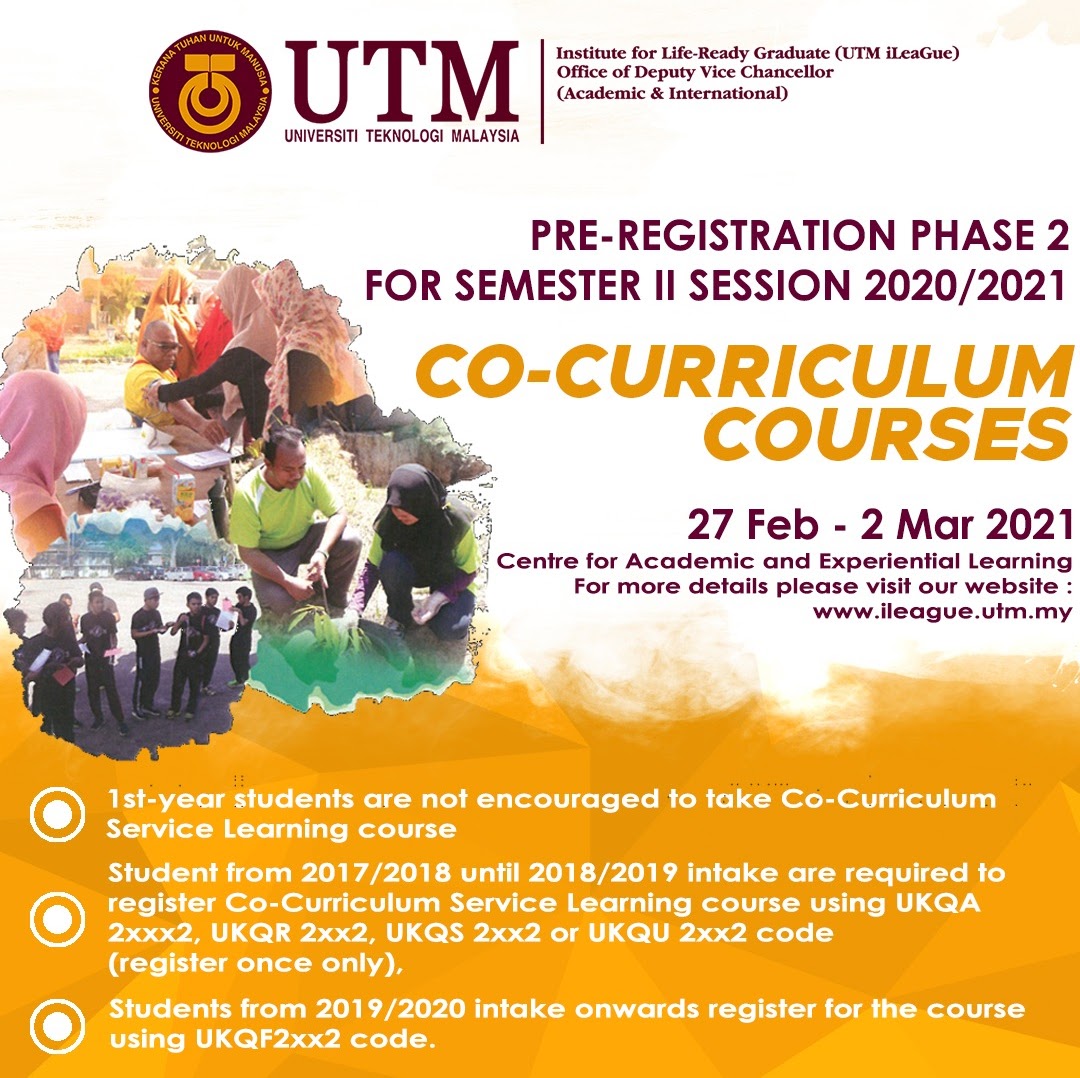 For 2nd, 3rd and 4th year students only
Course Pre-Registration for Semester II Session 2020/2021
Instruction to Students
Do not register wrong section, remain in your section.
If you find that the course you are supposed to take (in the proper section) is full, do not register the course in another section
If you have not complied with the instructions and sent the pre-registration to your academic advisor, inform your academic advisor and ask him to cancel the pre-registration. If your academic advisor has approved on the last date (29/1/2021), you have to do INSERT-DELETE in the first week of lecture in next semester.
Students must register for the co-Q offered only and can not add other co-Q in pre-registration. You can add other co-Q on the day of registration (first week of next semester) only by completing the insert-delete form and request the signature from your Academic Advisor, then email to

ska-ug@utm.my
Teaching and Learning Methods for Semester 1 Session 2020/2021 (Academic Circular No. 12/2020 )
SKA take the approach of running all courses (including Civil Engineering Laboratory courses) online until the end of Semester 1 Session 2020/2021
Assessments (tests, assignments, final examination etc) for all courses are conducted online until the end of Semester 1 Session 2020/2021.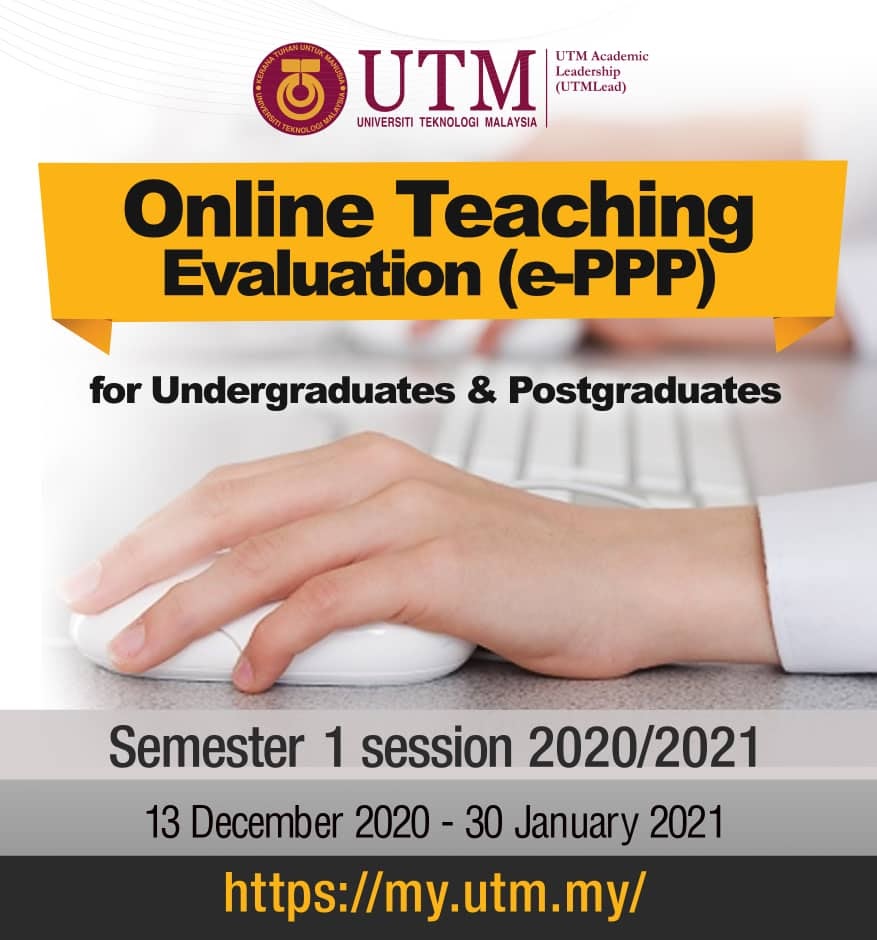 Mid-semester Break for Semester1 Session 2020/2021: 6-10 December 2020
See Academic Calendar for Session 2020/2021
17/11/2020
PELAKSANAAN FIRST YEAR EXPERIENCE (FYE) 2020 SECARA DALAM TALIAN MELALUI PORTAL E-LEARNING
Sejajar dengan arahan daripada Kementerian Pengajian Tinggi (KPT) serta keputusan pihak Pengurusan Universiti untuk meneruskan sesi pengajian akademik pada ketika ini secara atas talian dan tiada sebarang bentuk aktiviti fizikal secara bersemuka dibenarkan kesan daripada pendemik COVID19; Institut Siswazah Tersedia Kehidupan (UTM iLeaGue) telah mengambil inisiatif untuk terus memberikan perkhidmatan dan sokongan dalam aktiviti pembangunan akademik secara optimum.
Justeru itu, adalah dimaklumkan bahawa pelaksanaan First Year Experience (FYE) yang bertujuan dalam memberikan pengenalan dan informasi utama untuk membantu pelajar mengadaptasi diri dengan suasana pembelajaran di alam kampus khusus kepada semua pelajar baharu Universiti Teknologi Malaysia (UTM) akan dilaksanakan secara dalam talian sepenuhnya mulai sesi pengajian semester I – 2020/2021 ini.
Pelaksanaan program FYE ini akan dilaksanakan menerusi Portal e-Learning sebagai platform utama di mana semua pelajar baharu dapat mengakses modul-modul yang telah disediakan. Berikut adalah butiran pelaksanaan program FYE tersebut:
i. Semua pelajar baharu WAJIB mengikuti kesemua modul yang telah disediakan sehingga selesai dalam tempoh 3 minggu seperti mana yang telah ditetapkan iaitu bermula pada 17 November 2020 (Selasa) hingga 7 Disember 2020 (Isnin).
ii. Semua pelajar baharu yang telah berjaya menyelesaikan kesemua modul dalam tempoh yang ditetapkan tersebut adalah layak untuk menerima:
a. FYE digital badge;
b. e-Sijil; dan
c. Penyertaan didaftarkan dalam Sistem MyACAD
iii. Status penyertaan pelajar akan dilaporkan kepada Pengurusan Universiti selepas tempoh 3 minggu yang telah diperuntukan.
Sehubungan dengan itu, adalah diminta kepada semua Fakulti / Sekolah untuk mengambil maklum perkara ini dan tiada lagi sebarang bentuk pelaksanaan FYE yang perlu dilaksanakan oleh mana-mana pihak seperti amalan pelaksanaan sebelum ini.
Google translation:
NOTICE: IMPLEMENTATION OF FIRST YEAR EXPERIENCE (FYE) 2020 ONLINE THROUGH PORTAL E-LEARNING
In line with the instructions from the Ministry of Higher Education (MOHE) as well as the decision of the University Management to continue the academic study session at this time online and no form of physical activity face to face allowed the effects of the COVID19 demon; The Institute for Life Graduates (UTM iLeaGue) has taken the initiative to continue to provide services and support in academic development activities optimally.
Therefore, it is informed that the implementation of First Year Experience (FYE) which aims to provide identification and key information to help students adapt to the learning environment on campus specifically for all new students of Universiti Teknologi Malaysia (UTM) will be implemented online starting this semester I – 2020/2021 study session.
The implementation of this FYE program will be implemented through the e-Learning Portal as the main platform where all new students can access the modules that have been provided. Here are the details of the implementation of the FYE program:
i. All new students MUST follow all the modules that have been prepared until completed within 3 weeks as prescribed, starting from 17 November 2020 (Tuesday) to 7 December 2020 (Monday).
ii. All new students who have successfully completed all modules within the stipulated period are eligible to receive:
a. FYE digital badge;
b. e-Certificate; and
c. Participation is registered in the MyACAD System
iii. Student participation status will be reported to the University Management after the allotted 3-week period.
Accordingly, it is requested to all Faculties / Schools to take note of this matter and there is no longer any form of FYE implementation that needs to be implemented by any party like previous implementation practices.
Person in Charge: Dr Mohd Badruddin Mohd Yusof, FYE Coordinator, SKA.
Course Amendment Registration (for Senior Students): 18.10.2020 – 22.10.2020
To any new students who have not yet received UTM ID, please email to ugrad@utm.my.
Online Course Registration for Senior Students is from 8 October 2020 to 15 October 2020
2/10/2020:
REGISTRATION OF NEW STUDENTS AND SENIOR STUDENTS – SEMESTER 1 2020/2021
Universiti Teknologi Malaysia (UTM) is very concerned with the current situation and takes seriously the increase in positive cases of COVID-19 throughout Malaysia. The University management with reference to the media statement from the Ministry of Higher Education on 2 October 2020 has decided to TEMPORARILY DELAY the physical attendance of ALL STUDENTS to the UTM Campus Johor Bahru and Kuala Lumpur, until a new announcement is made.
(1) All new and senior students do not need to come or return to campus for registration and learning.
(2) All new and senior students must register and follow all courses online until further notice, based on the latest developments of COVID-19.
(3) The orientation week (MMM) for new students will be conducted online.
(4) Students who have arrived on campus will be assisted for placement while complying with standard operating procedures (SOPs).
Further and up-to-date information on any matters related to Semester 1 2020/2021 will be updated from time to time and can be obtained from the following link:
or please call the hotline +6011 18687022 (8.30 am – 4.30 pm, Sunday – Wednesday; 8.30 am – 3.00 pm, Thursday).
Therefore, the official announcement issued on 25 September 2020 and related Circulars by the Deputy Vice Chancellor's Department (Student Affairs) are null and void.
All students are reminded to always be alert to any latest announcement and comply with the instructions set in dealing with the Covid-19 pandemic.
Thank you.
OFFICE OF THE VICE CHANCELLOR
UNIVERSITI TEKNOLOGI MALAYSIA
27/9/2020
PENANGGUHAN KEMASUKAN PELAJAR (BAHARU DAN LAMA) DARI KAWASAN ZON MERAH COVID-19 KE IPT
Berikutan peningkatan kes COVID-19 di beberapa daerah di negara ini, Kementerian Pengajian Tinggi (KPT) telah menyarankan kepada semua Institusi Pengajian Tinggi (IPT) untuk menangguhkan dahulu urusan pendaftaran kemasukan pelajar baharu dan lama dari kawasan zon merah secara bersemuka di kampus masing-masing, yang dijadualkan bermula Oktober ini.
Proses pendaftaran dan pembelajaran bagi kumpulan pelajar terbabit bolehlah dilakukan secara dalam talian. Para pelajar boleh pulang ke kampus masing-masing mengikut Prosedur Operasi Standard (SOP) sedia ada setelah keadaan kembali pulih.
Bagi pelajar yang bukan dari kawasan zon merah, kemasukan ke IPT kekal mengikut kalendar akademik IPT masing-masing. Sebarang pertanyaan berkaitan pergerakan balik ke kampus serta sesi pengajaran dan pembelajaran boleh dirujuk terus kepada IPT masing-masing.
KPT sekali lagi menegaskan bahawa semua IPT telah diarah untuk memastikan pelaksanaan aktiviti akademik di kampus mematuhi sepenuhnya SOP yang ditetapkan dan mengutamakan langkah-langkah keselamatan. Pada masa yang sama, kementerian ingin menasihatkan pelajar supaya terus mengambil langkah pencegahan seperti kerap mencuci tangan, memakai pelitup muka dan mengamalkan penjarakan fizikal.
DATO' DR. NORAINI AHMAD
Menteri Pengajian Tinggi
Google Translation:
ADJOURNMENT OF STUDENT ADMISSION (NEW AND OLD) FROM COVID-19 RED ZONE AREA TO IPT
Following the increase in COVID-19 cases in several districts in the country, the Ministry of Higher Education (MOHE) has advised all Institutions of Higher Learning (IPT) to postpone the registration of new and old students from the red zone face to face on their respective campuses , scheduled to begin this October.
The registration and learning process for the group of students involved can be done online. Students can return to their respective campuses according to the existing Standard Operating Procedures (SOP) after the situation recovers.
For students who are not from the red zone area, admission to IPT remains according to the academic calendar of their respective IPT. Any questions related to the return to campus as well as teaching and learning sessions can be referred directly to the respective IPT.
MOHE reiterated that all IPT have been instructed to ensure the implementation of academic activities on campus in full compliance with the prescribed SOPs and prioritize safety measures. At the same time, the ministry would like to advise students to continue to take preventive measures such as frequent hand washing, wearing face masks and practicing physical imprisonment.
DATO 'DR. NORAINI AHMAD
Minister of Higher Education
16/9/2020
Hasil Persetujuan/Persefahaman Mesyuarat Sinergi Kemasukan Pelajar ke UTM Semester 1 2020/2021.
1. Pengumuman Kaedah PDP kepada semua pelajar bagi lebih 2000 kursus boleh di akses oleh pelajar di MyUTM.my seperti yg unumkan di poster yg dikongsikan.
2. Pelajar kanan dibenarkan kembali ke UTM atau mengikuti kursus secara online, bergantung kepada kursus, program yang mereka ambil dan lokasi mereka.
3. JTNCA akan melaksanakan survey dan meminta feedback dari pelajar kanan tentang pilihan masing-masing. Pelajar perlu menjawab survey sehingga 20 Sept 2020.
4. Semua pelajar baharu yg tiada isu kesihatan maupun sekatan COVID dibenarkan datang ke UTM untuk proses pendaftaran dan MMM di UTM. Semua pelajar baharu (local dan antarabangsa) boleh mengikut program dan taklimat MMM dan HEP secara online. Sekiranya pelajar memohon pulang selepas proses pendaftaran, permohonan mereka akan dipertimbangkan mengikut kes.
5. SOP keselamatan dan kesihatan untuk pergerakan ke UTM akan mengikut ketetapan dan SOP MKN, KPT dan SOP UTM. Ini termasuk kebenaran dan SOP pergerakan melibatkan stakeholders antarabangsa dan tempatan (termasuk mereka yang dari kawasan merah dan kawasan PKPD)
6. Pihak HEK akan menyediakan portal pemakluman kepada stakeholders, yang melibatkan semua jabatan di UTM.
7. Semua PTJ/Jabatan diminta menyediakan maklumat dan SOP berkaitan jabatan masing2 untuk stakeholders, termasuk SOP keselamatan mengikut keperluan dan dengan penyelarasan oleh HEK. Semua jabatan diminta berkongsi maklumat tersebut dengan HEK selewat-lewatnya 20 September 2020.
Google Translation:
Results of Agreement / Understanding of Synergy Meeting for Admission of Students to UTM Semester 1 2020/2021.
1. Announcement of PDP Method to all students for more than 2000 courses can be accessed by students at MyUTM.my as announced in the poster shared.
2. Senior students are allowed to return to UTM or take online courses, depending on the course, the program they take and their location.
3. JTNCA will conduct a survey and ask for feedback from senior students about their options. Students must answer the survey until 20 Sept 2020.
4. All new students who do not have health issues or COVID restrictions are allowed to come to UTM for the registration process and MMM at UTM. All new students (local and international) can follow the MMM and HEP programs and briefings online. If students apply to return home after the registration process, their application will be considered according to the case.
5. Safety and health SOP for movement to UTM will follow the rules and SOP MKN, KPT and SOP UTM. This includes permission and SOP movements involving international and local stakeholders (including those from red areas and PKPD areas)
6. HEK will provide a notification portal to stakeholders, which involves all departments in UTM.
7. All PTJ / Departments are requested to provide information and SOPs related to their respective departments for stakeholders, including security SOPs as required and with coordination by HEK. All departments are requested to share the information with HEK by September 20, 2020.
9/8/2020
Pelaksanaan pengajaran dan pembelajaran kursus-kursus berkuliah Sekolah Kejuruteraan Awam pada Semester 1 Sesi 2020/2021
1) Berhubung perkara di atas, saya bagi pihak pengurusan Sekolah Kejuruteraan Awam ingin memaklumkan bahawa sekolah berhasrat untuk melaksanakan pengajaran dan pembelajaran (PdP) secara teradun (blended learning) bagi semua kursus-kursus berkuliah (pra-siswazah dan pasca siswazah) pada Semester 2 Sesi 2020/2021.
2) Melalui kaedah pembelajaran teradun ini, kuliah adalah dijalankan secara atas talian (online) bermula pada 18 Oktober 2020 (mula semester I Sesi 2020/2021) sehingga 31 Disember 2020. Bermula 1 Januari 2021, kelas kuliah adalah dijalankan seperti biasa iaitu secara pembelajaran bersemuka (f2f) dan bergantung juga kepada keadaan semasa pada ketika itu. Adalah diharapkan tiada lagi berlaku gelombang Covid-19 ketiga atau keempat selepas 31 Disember 2020.
3) Turut dimaklumkan, Sekolah Kejuruteraan Awam juga berhasrat untuk menjalankan PdP secara atas talian untuk kursus-kursus makmal pra-siswazah (SKAB2012 dan SKAB 3012) pada 18.10.2020 hingga 31.12.2020, seterusnya diikuti dengan pembelajaran bersemuka (f2f) bermula pada 1.1.2021.
4) Pelaksanaan pembelajaran secara atas talian ini adalah untuk kursus-kursus kuliah kepunyaan Sekolah Kejuruteraan Awam sahaja. Walau bagaimanapun, sekolah tidak dapat memberi jaminan bahawa pembelajaran teradun ini juga terpakai untuk kursus-kursus umum universiti yang lain.
Google Translation:
Implementation of teaching and learning of lectured courses at the School of Civil Engineering in Semester 1 Session 2020/2021
1) In relation to the above, I on behalf of the management of the School of Civil Engineering would like to inform that the school intends to implement blended learning for all teaching and learning (PdP) for all lectured courses (pre-graduate and postgraduate) in Semester 2 Session 2020/2021.
2) Through this blended learning method, lectures are conducted online starting 18 October 2020 (beginning of semester I Session 2020/2021) until 31 December 2020. Starting 1 January 2021, lecture classes are conducted as usual, i.e. by learning face to face (f2f) and also depends on the current situation at the time. It is hoped that there will be no third or fourth Covid-19 wave after 31 December 2020.
3) Also informed, the School of Civil Engineering also intends to conduct PdP online for pre-graduate laboratory courses (SKAB2012 and SKAB 3012) on 18.10.2020 to 31.12.2020, followed by face-to-face learning (f2f) starting at 1.1 .2021.
4) The implementation of online learning is for lecture courses belonging to the School of Civil Engineering only. However, the school cannot guarantee that this blended learning also applies to other general university courses.
Dr Suhaimi Abu Bakar
14/9/2020
Interested to get 2 degrees in 5 years?