7.1      University's General Courses
Undergraduates in the Bachelors Degree Program are required to register for the University's General Courses during their Duration of Study. The courses are categorized as follows:
Islamic and Asian Civilization (UICI) – 4

Human Resources Development (UHAS) – 8

English Language (ULAB) – 6

Co-curriculum (UKQ#) – 2

Science and Mathematicsc or ecourses (SSCE) – 15
7.2      Centre of Islamic Study and Social Development Courses (UICI)
These courses, first introduced in the 1998/99 Academic session, are compulsory for the Bachelors Degree students of UTM. Students will have to complete these courses as one of the requirements for graduation.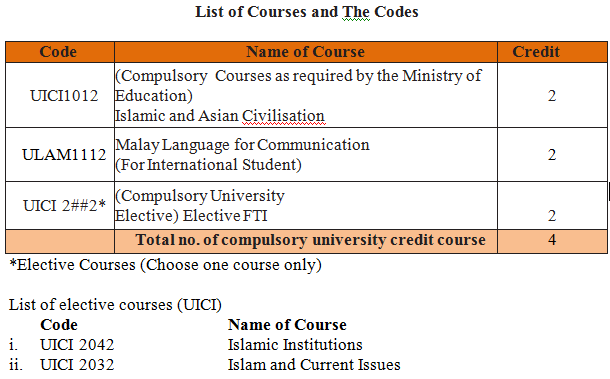 7.3      English Language Course (ULAB)
Students must accumulate six (6) credits of English Language courses during the course of their study.
Each course is taught for four (4) hours per week and the focus is on developing basic skills in reading, writing, listening and speaking using science and technology materials.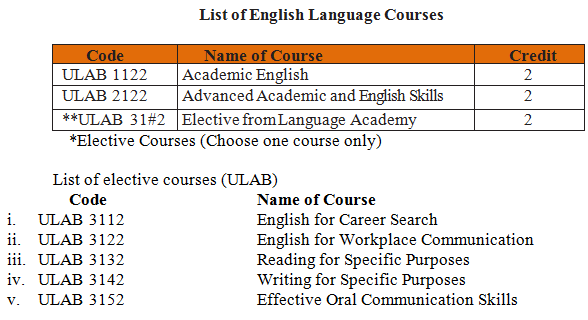 7.4      Human Resource Development Courses (UHAS)
Students are required to take a total of four (4) credits of Human Resource Development Courses as listed in the following table, and another four (4) credits from the list of elective courses.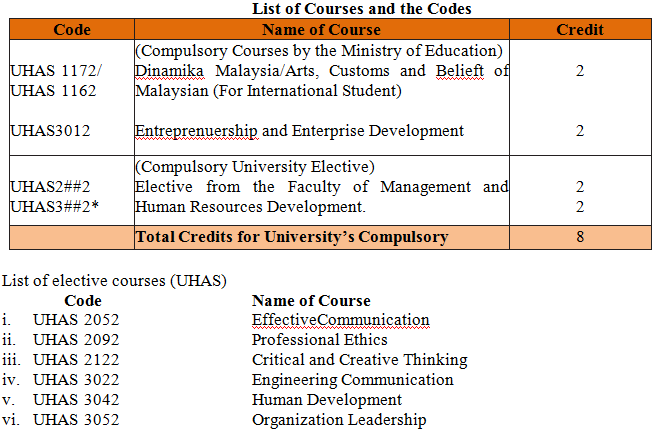 7.5      Science and Mathematics Core Courses (SSCE)
Student are required to complete 15 credits of Science and Mathematics courses, listed below
SSCE 1693

SSCE 1793

SSCE 1993

SSCE 2393

SSCE 2193
7.6      Co-Curricular Courses (UKQ#)
7.6.1   Background
The co-curricular courses were first introduced as part of the University General Courses in July semester 1992/1993 Academic Session. It is compulsory for every student to take these courses as a pre-requisite for graduation.
The courses offered are managed by the General Courses and Co-curricular centre. To attract the interest of students, a variety of courses are offered and they are categorized into main modules such as Sports and Character Building, Personal and Social Development, Arts and Culture, and Special Programmes.
7.6.2   Requirements for Co-curricular Course Registration
The rules are applicable for students who are studying in the full-time programmes at the University.
(i)        The total number of credits for the Bachelors Degree program is two (2).
(ii)       The maximum number of credit and course allowed per semester is one (1).
(iii)      Students who would like to take more than one (1) credit as listed in (ii) will need to obtain permission from the Co-curricular centre and will be charged additional fees.
(iv)      The co-curricular courses are part of the University's General Courses. If a student failed in any of the courses, he/she may:
Repeat the course.

Substitute the course with another one but the failed course will still appear on the student's transcript and will be used in the calculation of the CGPA.
(v)       Course Registration
Students are encouraged to register during the pre-registration period to ensure a place in the course of their choice.

Students may take any course offered subject to its availability.

Students are not allowed to change courses once they have registered.

The Rules and Regulations of registration are subject to change as deemed necessary by the University.
(vi)      Credit Transfer (Credit Exemption)
UTM graduates are eligible for Credit Transfer for all co-curricular courses they have taken in previous programme.

Direct entry students from other institutions of higher learning will have to take at least one (1) credit of co-curricular courses.

Credit transfer for graduates from other institutions of higher learning will only be given if the course is accredited and recognized by the General Courses and Co-curricular centre.

 Any core course taken in or out of UTM will not be considered although the contents are equivalent or of a higher standard.

(e)   Application for Credit Transfer must be made during the first semester of the study. Approval from the General Courses and Co-curricular centre is required.
(vii)     Final Examination Week
The final examination for the co-curricular courses, if any, will be held during the last week of lecture
7.6.3   Implementation of Co-curricular Courses
Students are required to attend all courses as scheduled inclusive of outdoor or off campus activities such as camping, study tour, and social services. Every activity is designed to transfer the theoretical knowledge to practical applications.
(i)        Meeting Times
The meeting hour forco-curricular courses is between 2.00pm–7.00pm on every Tuesday. However, there are courses that will be conducted on Thursday mornings. The time allocated for the courses are a one-hour lecture or a two-hour practical activities.
(ii)       Marking Scheme
The marking scheme usually followed by the trainers/lecturers is as follows:
Contribution and Attendance              20%

Assignments/practical activities           60%
Types of tasks:
Portfolio

Assignment, group or individual reports

Practical evaluation at site or lab
(c)   Tests and Quizzes                                 20%
(iii)      Current Rules
(a)   Students are given the choice to select the activities that are of interest to them. However, the activities must be the ones offered by the General Courses and Co-curricular centre for that semester. Registration for the course is subject to the availability of places.
(b)   Upon registration of the course of their choice, students will not be allowed to change to another course. Students are recommended to consider their options carefully before making their decision. They are advised to refer to the timetable and the requirements of the activities before making the final decision.
(c)   Students who register for the co-curricular course with less than 80% attendance without valid reasons accepted by the University, will be awarded zero (0) mark for the course. They need to repeat the course.
(d)   Each student is responsible to ensure that the credit requirement for the co-curricular courses is fulfilled in accordance with the University's Regulations