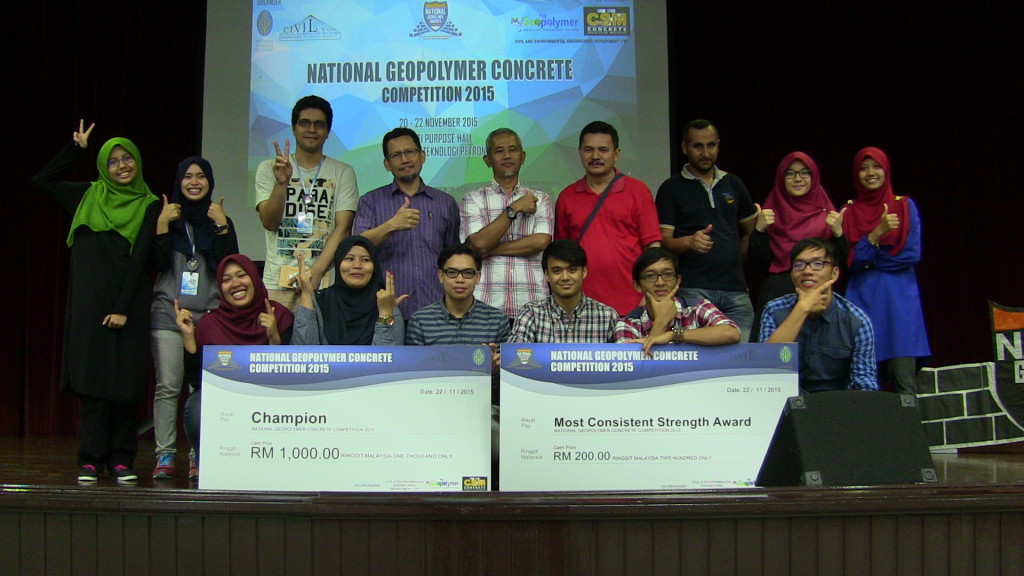 The competition was held on 22nd November 2015 and organized by Universiti Teknologi Petronas (UTP) and supported by Malaysian Geopolymer Association (MyGeopolymer) and Sustainable Resources Mission Oriented Research (SUREMOR).
UTM-FKA team was participating by Habeeb Lateef Muttashar, Shafiq Ishak, Putri Fatin Amira Saadon, Siti Nur Naqibah Kamarudin, Nooraniza Zulkifle, Mohamad Syawal Md Zain, Adri Mohamad Shafie, Ghasan Fahim Husein, Amalien Aisyah Mohamed, Safinaz Khairul Anuar, Zaidatul Shakirah Zaba and Loh Wai Kin and supervising by Dr. Azreen Mohd Ariffin, Dr. Abdullah Zawawi Awang and Associate Prof. Dr. Abdul Rahman Mohd Sam was announced as a champion of NGCC 2015. The team also won a Most Consistent Compressive Strength Award and a Special Achievement Award from The Concrete Society of Malaysia (CSM). The second and third places won by the team from Universiti Putra Malaysia (UPM) and Universiti Kebangsaan Malaysia (UKM) respectively. Fifteen teams were contested in this competition.
The UTM-FKA team has produced the highest geopolymer concrete cubes compressive strength of 63.9MPa after 24 hours curing under room temperature. Geopolymer concrete is an innovative construction material and a real alternative to conventional Portland cement concrete for use in transportation infrastructure, construction and offshore applications. It relies on minimally processed natural materials or industrial byproducts to significantly reduce its carbon footprint, while also being very resistant to many of the durability issues that can plague conventional concretes. It also known as cementless concrete.
The objective of the competition was to encourage students and researchers to put on their creativity skills and technical knowledge to produce competitive geoploymer concrete mix design with high early strength. The competition is also served as a platform between students, researchers and geopolymer concrete industry players to share their up-to-date research findings in advanced construction materials.